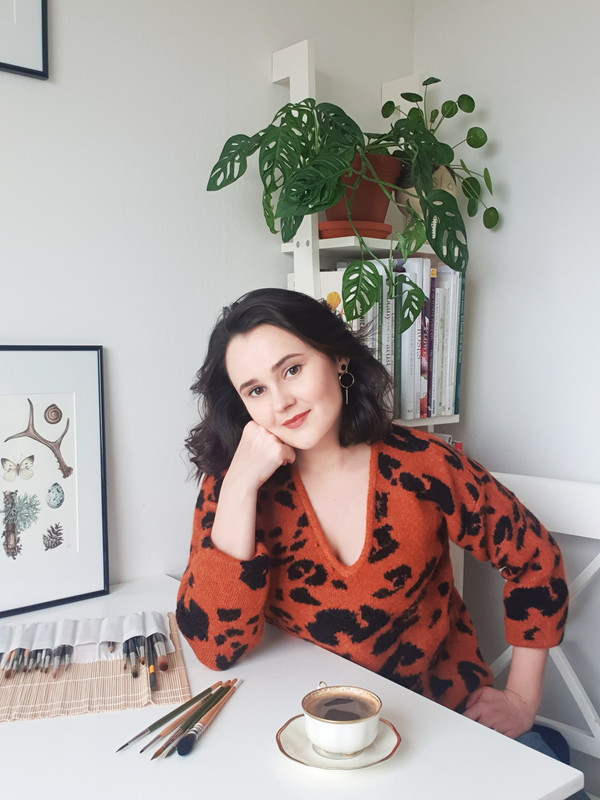 My name is Darya. I was born in Minsk, Belarus, but moved to Sweden in my twenties. I work in different media — mostly in watercolors, but also in acrylics, colored pencils and graphite. I started to paint in my early childhood — it filled me with joy, granted serenity and helped reveal the secrets of the natural world.
I was very curious as a child, and my father's collection of seashells and minerals from all over the world was my biggest fascination. Exploring natural curiosities was intriguing and exciting, and I remember dreaming of traveling the world and getting to see amazing things. As I grew up, I fulfilled my dream and visited many beautiful places on the planet, where I got to see various natural wonders and meet interesting people!
I lived in China for a while, where I studied Chinese calligraphy. There my love for details flourished. I enjoyed creating precision lines and forms, learning how to channel my emotional and physical energy into my artwork.
Nature is my constant source of inspiration. Seeing beauty in natural perfections and imperfections and depicting it is now my biggest passion.
I am in love with botanical and natural history art, and during the years of painting I established a style that encompasses both – precision of traditional/scientific illustration and vibrancy and sensuality of modern botanical and natural history art. I want my objects not just to be pleasing to the eye, but I also expect them to communicate with the viewer, arousing emotions.
With my art I want to inspire people to take time to celebrate the nature and learn how to find beauty in the small-scale, in the ordinary, and appreciate the wonders of this world!